»

Home

»

IMPORTANT NOTICE COVID-19 SITUATION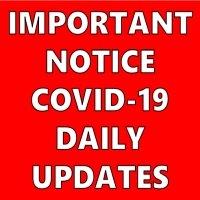 IMPORTANT NOTICE COVID-19 SITUATION
Important Notice -
Location:
2020 Dunlap St.
cincinnati, OH 45214
Inspection:
Summary:
Please click auction details for daily updates on our auctions and company procedures during this time.
---
Featuring
Cincinnati Industrial Auctioneers takes the safety and well-being of our employees and customers very seriously. In response to the novel coronavirus, we will have limited office hours beginning at the end of the business day on Monday, March 23, 2020 until a TBD date in early April. Most of our employees will be working remotely, and we are moving almost all Auctions to a webcast only or timed online only format. We thank our customers for their understanding.

DAILY UPDATE 4/7/2020

All inspections and auctions continuing as scheduled EXCEPT AS LISTED BELOW, although we may have switched to strictly online bidding. Check the specific auction page for details.

For questions on specific auctions, please go back to the home page and visit the specific auction that you have questions on.

If you are considering having an auction, selling equipment or getting an appraisal, please contact one of the partners below, all correspondence will be held 100% confidential.

> Jeffrey M. Luggen Jr., email link, 513-708-9071 Cell

> Joseph M. Luggen, email link, 513-886-1268 Cell

> Ryan L. Luggen, email link, 513-910-6320 Cell


Current Auction Status
HUBBELL WIRING SYSTEMS - Auction and inspection continuing as scheduled

METAL PROCESSING FACILITY - Auction and inspection continuing as scheduled

JOHN HASSALL – Delayed until June 2020

EMITEC – Delayed until June 2020

MAGNETICS - Delayed until May 2020

CENTRAL DENVER IRONWORKS - Summer 2020
Sale Specific Information
Copyright © 2020 CIA Co.
2020 Dunlap Street
Cincinnati, OH 45214
Phone: 513-241-9701
Fax: 513-241-6760
Onsite Pre-Registration Registration for onsite bidding will be available on inspection day and/or the morning of the auction.
Proceed to the auction location and bring a Photo ID, Business Card (if applicable), Federal Tax ID Number (if applicable) and form of payment (cash or check) and/or proof of financial capability.